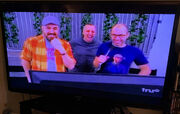 Brian Michael "Q" Quinn AKA Tony Gunk (born March 14th 1976) is a member of the New York troupe called The Tenderloins and is the oldest of the characters of Impractical Jokers with his three friends.
Personal Life
Q is a former firefighter, having served with the FDNY for eight years.
At one point, Q suffered from serious encephalitis and meningitis. Filming was delayed at least a week, and Q was allowed to skip at least one challenge due to health issues. In January 2021, he contracted coronavirus and is in recovery.
Q is in no relationship at the moment and is more private about his personal life than his compatriots. He has dated a makeup artist for the show in the past who was his fiancée that left him for a police officer 2 weeks before their wedding.
Trivia
Q suffers from arachnophobia (a fear of spiders), which was used against him in one of his punishments.
He and Murr have lost teeth while filming, both were caught on camera and used in the show. He and Murr each have one fake tooth because of it. Murr's issue, meanwhile, escalated into a punishment.
His favorite author is Hunter S. Thompson.
Brian was the first Joker to lose his virginity. While her identity has not been revealed, he met her on vacation with his parents and she was in prison as of 2013.
As of March 2020, Q has had the second least amount of punishments at 51. However, Q has also done the least challenges out of all the Jokers, due in part to his health problems.
While taking a trip to Germany in 2009, Q was arrested for disorderly conduct and a Police officer punched him in the face, knocking his tooth out. Q was escorted back to America by German police and was bailed out by the other guys.
Q will not eat peanut butter and sushi. The latter fact was used to make him automatically lose a challenge at a sushi bar.
He is an avid car enthusiast, and owns 8 different cars. He likes to drive a stick shift.
Q has a cat named Benjamin that he absolutely adores.
Q boasted about his love for Taylor Swift's 1989, noting it was one of his favorite albums of the year. He also revealed the best live show he'd seen in a long time was Bruno Mars (which Joe seconded).
In Season Six, Q had his head shaved as a punishment and his hair was turned into a wig which the other Jokers made Murr wear for the rest of the season, though it began to wear out midway in.
Q suffered two broken ribs when he fell off an ATV and was left wincing in pain when he laughed at Sal's punishment in "Swim Shady".
On the special road show episodes where the Jokers hold challenges in unique locations, Q has often suffered the most physical punishments.
Q is half-Italian, half-Irish. In October 2020 he revealed his mother was born in Italy.
Q suffered from depression and was very open with it.
Aside from Benjamin Cat, he has two other cats: Chessie Cat and Brooklyn Cat.
He attended Brooklyn College before he became a firefighter.
Q is an avid fan of Superman.
Q was not an original member of The Tenderloins. He replaced Mike Boccio when he left the group in 2006.
Q is also a part of the podcast Tell 'Em Steve-Dave!, which he co-hosts with Bryan Johnson and Walt Flanagan.
Quinn revived the Rubsam & Horrmann Brewing Company on Staten Island in 2019.
Before Q was famous, he worked as a ride operator at Beachland Amusements, a video clerk at Blockbuster, and a fireman for the FDNY before the show aired. He also acted in four movies Warshots in 1996, Dogma in 1999, Big Helium Dog in 1999, and Vulgar in 2000.
Q is the oldest as of his birthday being March 14.
Q and Sal are the only two that are single.
In Season 3, Episode 30 "B-I-N-G-NO," fellow joker Prince Herb (Sal Vulcano) revealed that Q has a problem with excessive armpit sweat.
One of Q's favorite movies is Ghostbusters (1984).
It's a running joke amongst the Jokers that Q looks like a fat Rosie O' Donnell, and even got the actress to be his twin in a punishment.
Punishments for Q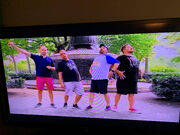 Gallery