This article is about the challenge. For the episode, see Charity Case.
Charity Cases is a challenge where the jokers had to get a donation for their fake charities and it appeared on the episodes Theater del Absurdo and Browbeaten.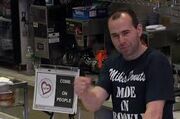 Turns
Theater del Absurdo
This is the first challenge in the episode.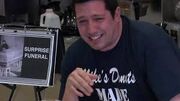 Browbeaten
This is the second and final challenge of the episode.
Sal lost.
Murr lost.
Joe won (though only because the donor mistakenly puts a dollar in the jar as a tip)
Q won.