James Stephen "Murr" Murray (born May 1st, 1976) is a member of the New York based comedy troupe called The Tenderloins and is one of the characters of Impractical Jokers.
James "Murr" Murray is the constantly-smiling guy who looks like a ferret. Like the rest of them, he's from Staten Island. Murr has been acting and doing comedy for years. About the success of Impractical Jokers, he's said: "I think the comments that we get all the time, and I consider this a huge compliment, is that we remind people of the friends they had growing up and what they do with their friends. That means we're doing our job right."
Murr told DenOfGeek that some of his comedic influences include Richard Pryor, Steve Martin, Mel Brooks, Kids in the Hall, I Love Lucy, and the Zucker brothers movies, among others.
Personal Life
Murr is a Taurus.
Murr was the third Joker to lose his virginity, during which he wore two condoms. He was in a committed relationship with a woman named Tara, which ended sometime before the show began after he cheated on her. Murr suffers from acrophobia (fear of heights) and galeophobia (fear of sharks). Murr has been described on numerous occasions as an asshole by the other Jokers.
In July 2019, Murr became engaged to Melyssa Davies, [1] whom he married on September 26, 2020. [2] The wedding was officiated by Joe Gatto and guests were required to wear masks and sanitize.
Trivia
Murr and Q have lost teeth in the middle of filming, both were caught on camera and used in the show. His issue escalated into a punishment. Both Jokers now have fake teeth.
He only speaks English, in spite of what was told in Out of TP. Murray claimed, "That was a joke in Season One, and fans picked up on it, and thought it was real."[3]

However, he asserted that he knows a few sentences in other dialects: "Where's the library?" in Spanish, and "I want to buy five pencils." in Mandarin.[4]

During one of their challenges in a pet store, Murr agreed to eat dog feces for $290.
Murr has both nipples and his belly button pierced from one of this punishments.
He shared an apartment with Joe when he was in high school.
Murr and Sal are the only Jokers to have never won an episode by themselves.
Outside of his comedian role, Murr is also an author, having written a total of three books alongside Darren Wearmouth.
James ran for Congress as an April Fool's Day joke.
Murr had some of the most ridiculous punishments in the show. These include:

Having an embarrassing interview with Danica McKellar, his childhood crush, oiled and wearing a speedo.

This punishment was referenced in a later challenge, with Danica and Murr's roles (including their clothing) being reversed.

Skydiving.

Having a tattoo in reference of this, being a skydiving ferret, as part of a triple punishment.

Murr, on the other hand, described seeing Britney Spears in Vegas as "awesome." He also further confirmed his lifelong love of Yanni, but fans of the show will already know all about that. Unfortunately.
Dressing as a centaur on two separate occasions. The first of which was during a wrestling match. The second of which was turned into a hunt by the other Jokers and a spectacle actually led some observing police to question the stunt, but due to being fans of the show, they allowed the filming to continue.

Murr revealed in "The Butt of the Joker" that he started losing his hair when he was 20. His hairline was already receding when Impractical Jokers began production.
Murr maintained a driver's license photo with most of his hair until the Jokers subjected him to a punishment where they shaved off all his remaining hair, including his eyebrows, and had Murr get a new license picture as such that would be the source of ridicule for years to come. Several challenges filmed afterward show the progression of Murr's hair regrowth. Then, in Season Five, the Jokers made him don a wig made out of Q's shaved locks of hair and get a passport photo as a call-back to this previous punishment, and since it would be ten years before he needed to get a new photo.
Murr created a film called Damned! and as punishment, had to sit and watch the movie with an audience and was interviewed by a film critic who made it clear the film was terrible.
Murr has done a total of 63 punishments.
He loves theme parks
Murr and Joe are the only married Jokers.
Murr is the second oldest of the Jokers, his birthday is May first.
Before Murr was famous, he sold golf balls at a golf course and then worked for NorthSouth Productions which has produced shows for truTV, AT&T, TLC, MTV, etc. When he was a teenager, he had a cameo appearance as a high school student in a film called Private Parts and portrayed the role of Judas in the movie Damned!
Punishments
Gallery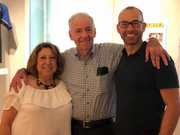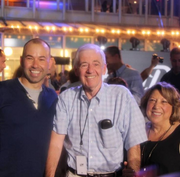 References