Jurassic World: Dominion Dominates Fandom Wikis - The Loop
Play Sound
Joseph Anthony "Joe" Gatto Jr. (born June 5, 1976) is an American comedian and former member of the New York troupe called The Tenderloins. He was a main member of the show Impractical Jokers from 2011 until 2021, when he announced he was stepping away from the show.
Summary
During his time on the show from 2011-2021, Joe was known as the Joker who's usually the most eager to take on his challenges. The other Jokers have described him as the hardest to punish, due to his shame-free attitude.
Joe loves to eat and is frequently seen eating on the show. He explained his obsession with food to ScreenerTC: "My mother had an open-door policy," he tells Zap2it. "She always had enough food a friend could stay for dinner. Absolutely my favorite memories are around the table. The meal is an event."
He's not above stealing food, either. "If we're at a bakery I'll just grab something," he told Looper.
Personal Life
In his earlier years, Joe worked at the emporium of James Glenn Delamark Beck the 2nd, but was fired for playing with a jockstrap. Joe's father died in 1995 from pancreatic cancer due to alcohol poisoning. Joe is a teetotaler as a result. His mother died in 2012.
Joe has a sister named Carla who appears in one episode. His brother-in-law later made one appearance and took revenge on Murr when he was a human piñata. Joe married a woman named Bessy in 2013. They have two children together: a daughter Milana (born May 7, 2015), and a son Remington "Remo" Joseph (born August 1, 2017). Following his marriage, the other Jokers now use Joe's status as a married man against him in the show during challenges, including bringing his wife to a challenge. He is the first of two married Jokers to get married, the second being Murr.
For much of the show, Joe being overweight (particularly his prominent gut) was often a point of ridicule among the other Jokers. As Joe has lost weight, these jokes have mostly ceased.
Trivia
He is the only Joker that is a father.
As of March 2020, Joe has done the least amount of Punishments at 44.
He and Sal are the only Jokers to have been hit by a car.
The Jokers view Joe as the hardest Joker to punish due to his ability to shamelessly perform shameful tasks.
He was the last Joker to lose his virginity.
Joe is an advocate for the 'Adopt, Don't Shop' movement, encouraging people to adopt pets from shelters rather than purchase them from breeders.
He and Murr shared an apartment together when they were young.
Joe actually left their comedy group, The Tenderloins, right before the Jokers were given their own show. He only came back once Q and Sal convinced him to re-join.
Joe loves British singer Charli XCX, name-dropping her hit song "Boom Clap" as one of his top picks.
Joe has been known for a prominent gut, and a "dad bod". It is used for his humiliation in several skits.
According to the episode "Fraudway", his parents had passed away by 2012. His father died of alcoholism in 1995, prompting Joe not to drink alcohol. His mother Gerri Gatto died on June 3, 2012.
Before Joe was famous, he worked as a salesman at the baby retail store Giggle and was a car salesman at a Nissan dealership.
Punishments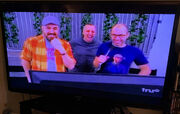 Gallery